Paul Shore
A Baroque Jesuit's Encounter with the Qur'an.
An Examination of Ignazio Lomellini's, S. J.,
Animadversiones, Notae ac Disputationes in Pestilentem Alcoranum
(Series Arabica-Latina, ed. Reinhold F. Glei, vol. 3).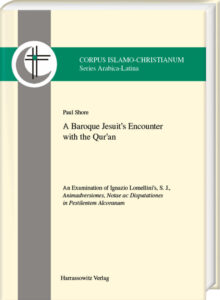 Wiesbaden: Harrassowitz, 2023.
206 pages, 18 images.
Very little is known about the origins of Animadversiones, Notae ac Dispu-tationes in Pestilentem Alcoranum, a manuscript of 323 two-sided folios composed by the Jesuit Ignazio Lomellini (born around 1560 in Genoa, died 1645 in Rome), housed in the library of the University of Genoa (Ms A-IV-4) and bearing the date 1622. This document is a unique surviving exemplar of the oldest translation of the Qur'an into a Western European language to include the complete Arabic text. Moreover, it contains a detailed commentary consisting generally of attempts by the author to refute or discredit the Qur'an and the Prophet Mohammed as well as numerous marginalia. The signifi-cance of this work derives both from its early place among transcriptions, translations and commentaries of the entire Qur'an undertaken by Western Christians and because of the high quality of the translation itself. The work is also a unique window into the training and attitudes of Jesuit missionaries and writers engaging with Islam during the early modern period, and thus sheds light on subsequent representations of Muslims and Islam in Jesuit homiletics, drama, and visual art. The book contains a thorough discussion of Lomellini's principles of translation, his coping with problematic Arabic passages and words, and the manifold sources on which the author relied. In addition, and as an example for Lomellini's translation technique, an analysis and a full transcription of the Latin text of Sura 18 ("The Cave") is provided.
This book is the legacy of the late Paul Shore, who suddenly passed away in February 2023.